Solar pumping systems have been used in Australia since the earlier 1980's and have proven themselves as a reliable and efficient way of moving water for applications such as stock water and tank filling.
As an alternative to or replacement for Windmills, Solar Pumps are easy to install, maintenance free and can simplify water management on many properties.
Blackmore's Power & Water can provide a range of solar pumping solutions from the world's leading suppliers to suit most water supply applications. These systems incorporate features such as:
316 Stainless Steel construction

Pumps to suit 80mm – 150mm boreholes & wells

Floating systems for dams

Surface systems for tank to tank water transfer

Dry Run protection

Generator backup

Easy installation with prewired solar array's

Automatic operation for tank filling

Remote monitoring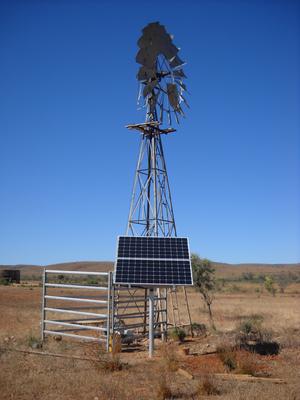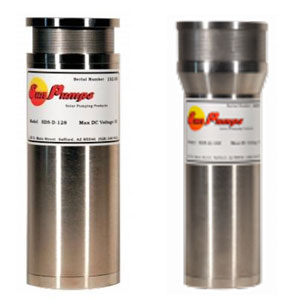 Sun Pumps Compact Submersible Pump
.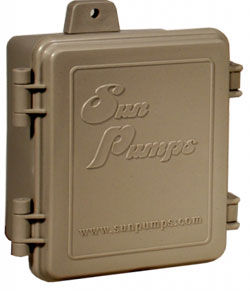 Sun Pumps Pump Controller
Sun Pumps
An efficient, compact low voltage DC powered submersible pump catering for flows up to 6,000 litres/day and total heads to 70 metres.
With a range of fourteen Sun Pump models to choose from, these positive displacement diaphragm pumps feature the option of Duplex, Triplex and Quad valve design, and are an efficient solution for moving smaller volumes of water efficiently and economically. Models are available for both 4″ (100mm) and 5″ (125mm) bores.
Grundfos SQFlex
As the world's largest pump manufacturer Grundfos has pioneered the development of innovative and advanced solar pumping systems since the early 1980's. The SQFlex range incorporate options of helical rotor and centrifugal pump designed for borehole, surface transfer and floating applications.
Features include Dry Run protection and the flexibility to incorporate generator backup. All pumps feature full 316 stainless steel wetted components for maximum corrosion resistance and have over and under voltage protection.
Solar arrays are assembled using heavy duty galvanised steel frames and are fully approved for installation in Australia.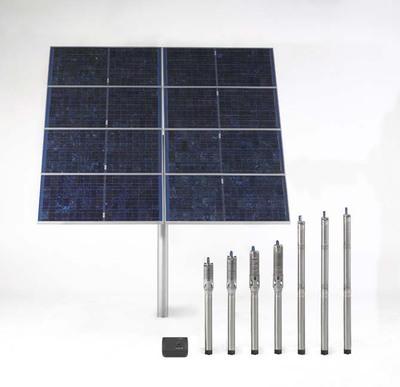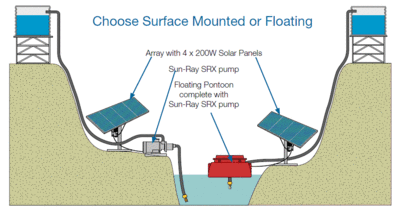 Mono Pumps
Mono pumps are a world leader in helical rotor pump technology and offer a range of solar pumping solutions for Borehole, Floating and Transfer applications.
The Mono CP pumps are used for both the Floating and Transfer pump systems; are a rugged compact design and come fully assembled and wired ready for installation.
Installed as a floating system the CP pump is self-priming and easy to install.